Circular Piezo Ceramic Actuators
(Unimorph and Bimorph)
The circular piezo actuator is constructed with a substrate and one (Unimorph) or two (Bimorph) piezo disc(s) by binding. Once it is subjected to a sine wave, which will cause the piezo disc to either expand or contract, the form of displacement will be similar to a sine wave. In the application of a pump this action will cause pressure differences in between the inside and outside of the chamber, thus pushing the fluid to move.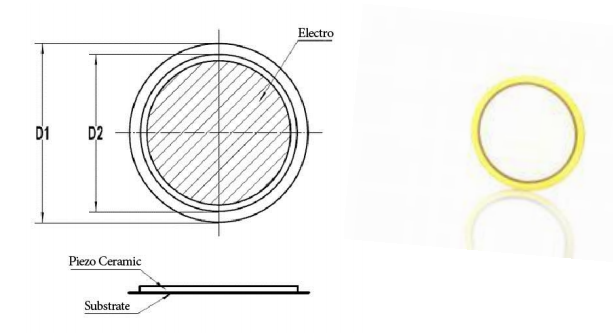 If none of these products match your requirements, click here to learn more about working with our engineers to build a custom component.
Low power consumption, fast response time, highly efficient
Small, thin, lightweight, and quiet
Widely used in air and fluid pumps
Flow rate can be accurately controlled and adjusted
Can be driven using 5VDC/24VDC or 110VAC/220VAC
Liquid cooling systems for CPUs, computer, LED lights, etc.
Air or fluid moving equipment (i.e. air pump for fish tank, automatic espresso machine, propane stove, etc.)
Medical equipment (i.e. Blood pressure monitor, insulin dosing machines, etc.)
Printer bulk ink supply systems
Portable electronics (i.e. Proton exchange membrane fuel cell, direct-methanol fuel cell)
Automatic lubricant supply system for precision instruments
Model
D x T
(mm)
Capacitance
(nF)

@1V, 100 Hz

Displacement
(µm)
155Vp-p

QDTA27-0.5-1
27 dia. x 0.5

PZT: 24 dia. x 0.3

55 ± 15%

50 – 80

QDTA41-0.6-1
41 dia. x 0.6

PZT: 36 dia. x 0.3

115 ± 15%
70 – 110
QDTA55-0.55-1
55 dia. x 0.5


PZT: 48 dia. x 0.3

245 ± 15%

130 – 170
Note: Custom size and specifications available upon request.
Recommended Operative Conditions
Operating Temperature: -10℃~+70℃
Operating Voltage: 100 VDC~115 VDC
Maximum Voltage: 120VDC
Operating Frequency: 50Hz~60Hz